I really have to hand it to Ikea. Despite being a large multinational corporation with stores in almost 40 countries, countless products and almost USD $30 billion in sales in 2012, they still manage to find a way to cater to the hobo sector. I'm referring, of course, to their well-known hobo stove:
OK, OK. This product is not sold as a hobo stove, per se (it's actually a cutlery drainer), but supposedly it works very well as a wood-burning stove thanks to its many holes, sturdy construction and size. I'm planning on using mine in place of a hobo stove I made out of a food can which proved to be a tad too small and potentially weaker than I'd like.
A few years ago, I contacted the Metsähallitus, a Finnish government agency which maintains national parks and does other similar tasks. I asked them about using a wood-burning stove for cooking in national parks, and they replied that it's fine to take sticks and branches off the ground to use as fuel (but not dead trees or parts still attached to trees) and burn them in a wood-burning stove, as long as the stove being used is contained and does not allow embers, ashes etc. to fall out onto the ground. Problem number one:
Obviously, I was going to have to find a way to close up all those holes. After doing some thinking, I figured one way to do it would be to secure a piece of metal over the holes with some nuts and bolts. So I flattened out a lid from a food can and made some holes in it to accept the bolts. Interestingly, when I flattened out the disk it was not flat, but more like a large contact lens (concave on one side and convex on the other), but with a much less extreme curve.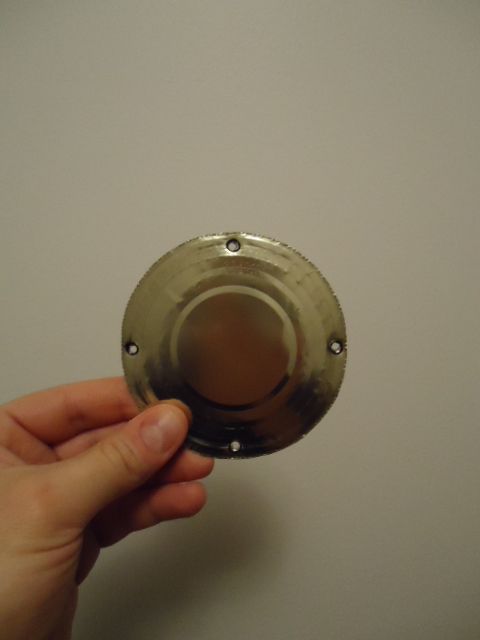 Then I used one bolt and two nuts per hole to hold down the metal disk and to act as little legs which serve to keep the bottom of the stove off the ground, reducing the risk of dry material under the stove catching fire. I put the concave side of the disk facing downward so that it hugs the bottom of the stove snugly and will not allow embers, ashes etc. to escape. I put an extra bolt and nut in the center to put even more downward pressure on the disk.
I haven't tried this stove out yet, but I will do so soon. I'll see if any modifications need to be made to ensure a good burn. One thing I've learned about using hobo stoves like this in the winter is that they melt the snow they're resting on (obviously), but I also have an idea on how to remedy that, which I'll show once it's complete.
Quick edit: I decided to remove the picture of the full setup with a kettle on top because it didn't give the right impression of how stable the stove is (it looked like the legs were closer together than they are). The setup is actually quite stable (I did some stability testing with a full kettle of water). I have also used a similar setup with much longer legs before and it was also stable. If, if, it somehow proves unstable, I can always shorten the legs. I am always very careful with fire!